9:10 pm
[twiztid_tears]

Read On...
If you guys like anyone from Psychopathic Redcords, Rydas Records, Lyrikal Snuff Productions (LSP), Kamp Blood, 7th Seal Entertainment (7SE), or Rottin Musick (RM) then read on. This is coming from a down ass Juggalette "These guys are the SHIT! Scum brings the wikid shit like I've never fuckin' seen!"
Pandora's Box for Sale by KBPromotions for $10!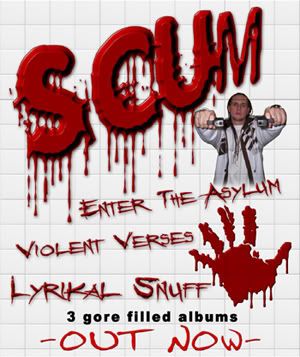 All FOUR Scum CDs for sale by KBPromotions!

Only Bodies Left Behind (OBLB) -- $12
Violent Verses -- $10
Enter The Asylum -- $10
Lyrikal Snuff (by LnG) -- $8

Click the Pics or you can go to http://www.myspace.com/kbpromotions. You can e-mail Max or Kindra at KBlood_Promos@yahoo.com.

You can also buy two for $18, three for $25 or ALL FOUR for $30!
10:07 pm
[lizzle]

S'up? My name's Liz.I'm just throwing in a post for the fxck's sake of it.
I've also got a community going, it's called ninja_gathering....it's where you can make connections with people before the gathering and shxt. So I'm just throwing it out there and spreading the luv.
peace and MMFWKL
Liz^_^
12:35 pm
[twiztidchick021]